She's quirky, giddy, all smiles and GORGEOUS. He's funny, tall, handsome and clearly crazy about her. Together they were fun, laid-back and up for anything.
I was very excited to work with their personalities and felt confident I could isolate this comfortable intimacy they shared and portray it accurately. When the day of the session came and the sky was completely over-cast and white out, I was determined to capture their relationship despite the weather.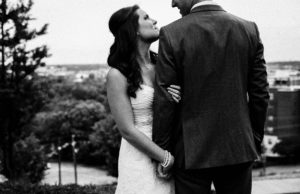 Brandon and Laura were not concerned; not only did they trust me, but they embraced the challenges of the day together. I believe anniversary sessions are about celebrating love and commitment; less than ideal weather cannot take away from that. Keeping this in mind, I pumped up the contrast on my camera and used interesting backdrops and props to give the pictures more complexity and romance. I strove to make them comfortable and to emphasize their chemistry; which was beautiful. We came out with some especially good "up close" images that I find incredibly beautiful. They were entirely at ease around each other, laughing and smiling with me the whole time. I always try to be especially upbeat and fun when I shoot a couple solo; sometimes being the only subject in a photoshoot can be intimidating. Its always icing on the cake when a couple responds so well to me and to each other. Brandon actually had a cold that day and kept having to wipe his nose in between kisses. This made Laura laugh and I jumped at the chance to catch genuine laughter and smiles, which seems to be something this couple regularly does together. The images are deceptively "easy" looking, it's not immediately apparent the challenges I faced in this shoot. I am so glad that their easy, natural smiles and intimate love are what shines in these images. As corny as it sounds, we really did create our own sunshine that day. I couldn't be happier with these images or for this lovely couple. Thank you for choosing me!