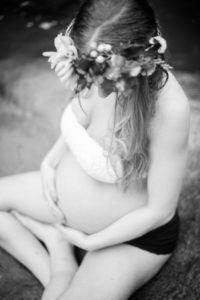 I am very pleased and excited to present my first maternity shoot. A big shout-out and thank you goes to Monica for being a perfectly lovely model; I enjoyed everything about working with her. Also, can I just say that pregnancy glow looks amazing on camera!?
As I thought about the shoot I decided the best thing I could do for Monica was as little as possible. She didn't need a lot of enhancement and I really wanted to showcase the natural beauty of pregnancy, so we used soft makeup, a minimalist gown and a natural flower crown to create the feel I was going for. I know that props and outfit changes can be very cute in maternity shoots but I'm pleased that we went with a "less is more" plan.
Monica was a real trooper being willing to wear a gown that reveals a lot of her belly, I think it's gorgeous and I'm so happy she felt beautiful showing it off. Nature is the perfect backdrop in my opinion for pregnant women. My little hippy soul definitely couldn't imagine it any other way. I think these images are enchanting.
This photoshoot made me see another side of womanhood. A side that is wholly different from boudoir and wedding photography but equally alluring and lovely. Pregnancy brings out a different softness in women. It is both wonderfully strong and incredibly fragile at the same time. I am a lucky girl to call this my job.