WEDDING DAY
The day is yours. Like all of my services, nothing is limited by time. There are no extra fees or awkward conversations about time overage. It is my experience with weddings, that you never can tell what the day will unfold. (Surprise relatives, weather changes, delays, ahead of schedule, etc.)
I want to be the least stressful thing happening the day of your wedding. It is my desire that you feel so confident in your choice with me, as your photographer, that you can completely let that go and let me take care of the fine details. When you book with me, you are getting more than just a photographer. I partner alongside your wedding coordinator (or become one all together) by memorizing your wedding timeline, visiting the venue and speaking with your vendors, all prior to your event. I will help to organize the day as it unfolds.
Fine details: I never shoot without a second shooter. There are far to many precious details that can be missed by just having one shooter. (The bride AND the grooms face, when you see each other for the first time.)
My second shooter, will be with the groomsmen prior to the ceremony. I will be with you and the bridesmaids and bride the morning of, to capture all the "getting ready" photos. During the ceremony; me second shooter again, will focus on the grooms side of things, to capture his face as you walk down the aisle, as I will focus on the bride, for the same reason. Directly after the ceremony we will take formal pictures with all family. I require a list from you ahead of time, to make sure no one is missed during this time.
Then on to the bridal party
After that, everyone, but the bride and groom, will be excused for cocktail hour.
During this time, my second shooter and I will (much like your engagement session) take time to capture intimate photos of just the two of you.
When all the formal pictures have been taken. The night is yours. Relax as I document all the special moments of you reception and get away. Enjoy your honeymoon, and don't forget to check my social media pages for teasers….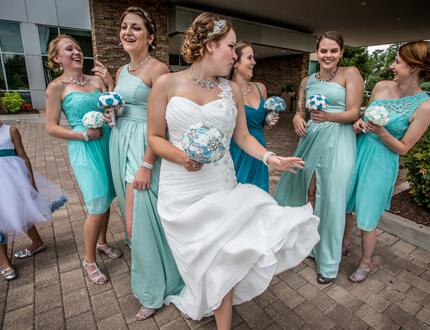 After Your Wedding / Session
This is when the editing process begins. It is likely that within 48 hours of your wedding, I will have at least one photo
from your wedding posted on social media…I usually can't help myself. (Unless a privacy disclosure was discussed.)
The rest will come to you through a private, password protected, online gallery. (This allows you to easily share
photos with out of town family and friends!)
The rights to your photos, along with a custom wooden USB drive (of all edited and retouched photos) and personal gift,
are all yours to keep!
I also offer canvas, regular prints and albums.
Pictures are typically ready within 30 days of your event.